VELFAC windows and window walling have been installed in the UK's first carbon neutral school, built as part of an ambitious scheme to transform an unkempt piece of land in Islington, London, into an exemplar carbon-negative development.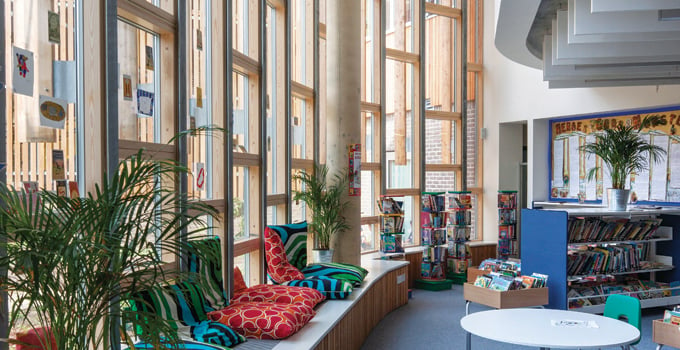 Once neglected urban woodland, Crouch Hill Community Park is now home to Ashmount Primary School and a refurbished youth centre (both featuring VELFAC glazing), a purpose builtpre school nursery, an ecology centre, and an upgraded multi-use games area.
Passive design measures
Ashmount Primary School, designed by architects Penoyre & Prasad, uses a range of passive design measures to reduce overall energy consumption and increase biodiversity. These include sedum roofs, grey water recycling, anda combined heat and power facility to service the entire site, with VELFAC glazing playing an important role in ensuring ongoing sustainability.
Large windows and window walling have been installed across the building to maximise daylight and thereby reduce artificial lighting, while also working as part of the building's natural ventilation system, automatically circulating fresh air while reducing draughts.
The high percentage of recycled and recyclable materials within the VELFAC composite aluminium and wood frame was an important consideration when the glazing was specified, as was the excellent insulation, and the option for solar glazing and shading to minimise solar gain.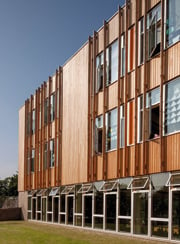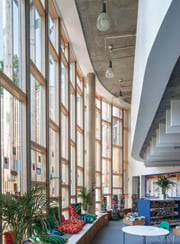 Award winning learning environment
As a result of its innovative design, Crouch Hill Community Park has been awarded £500,000 through the Department for Children, Schools and Families Low and Zero Carbon Schools – Pilot and Exemplar Projects initiative.
Ashmount Primary School, which formally opened in 2013, has also already won a BREEAM Award for Highest Scoring Project in the education sector, received an EPC Rating of A+,and is expected to achieve a final BREEAM rating of 'Outstanding'.