Some of the UK's most prestigious developments feature VELFAC aluminium / timber windows, as these award-winning residential projects demonstrate.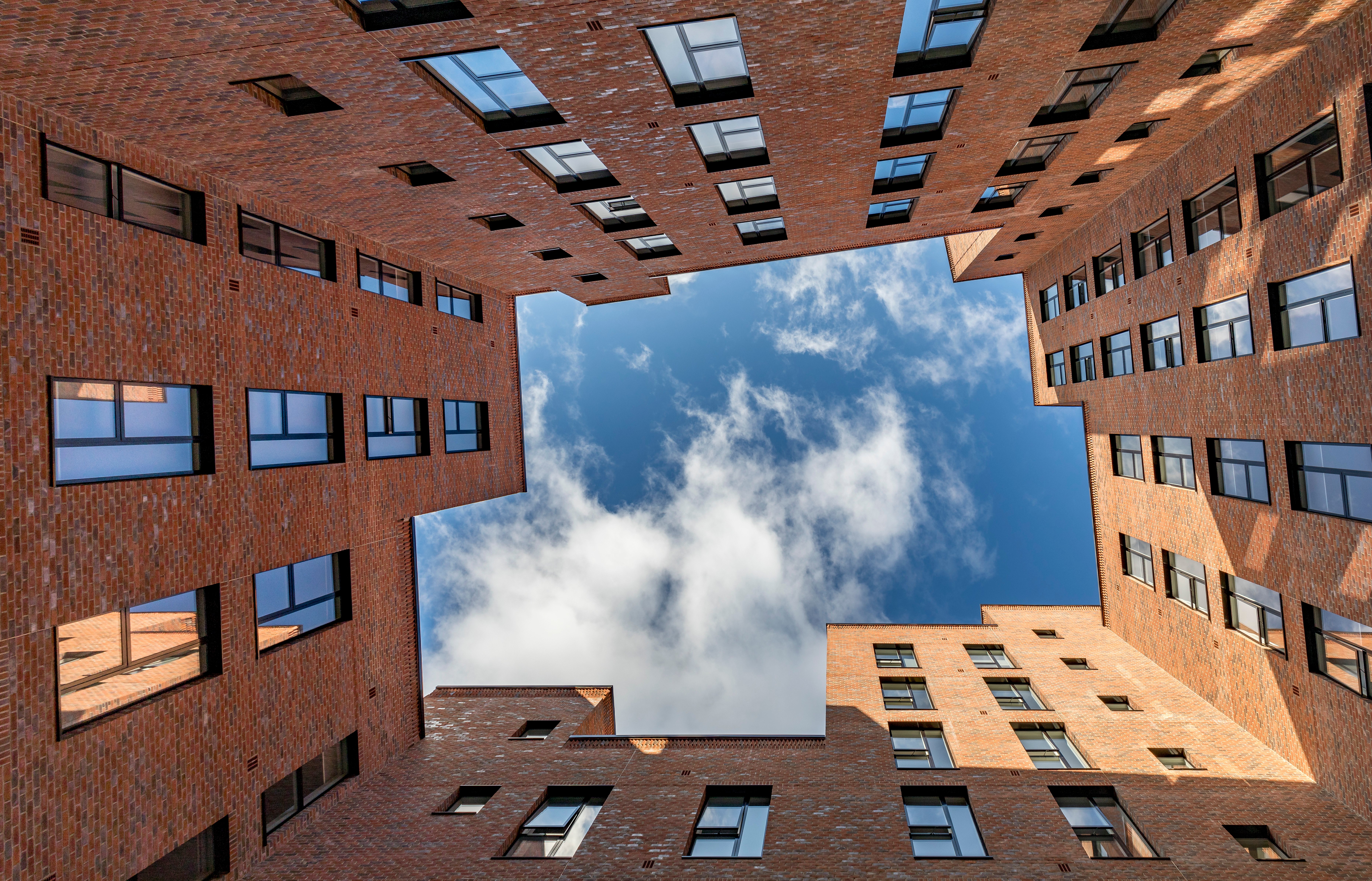 Photo: Daniel Shearing

VELFAC is becoming a mark of quality for residential developments. Architects specify VELFAC because they know the composite system offers quality construction, excellent design and competitive pricing which is backed by technical and design expertise.
The external aluminium frames create sleek and stylish facades and are also ultra-low maintenance, requiring no repainting for the lifetime of the unit. Internal pine frames deliver the warm, welcoming interior which homeowners and residents love, along with slim frames to maximise daylight, and impressive insulation to keep heating bills low.
Marsh Hill, Aldeburgh, Suffolk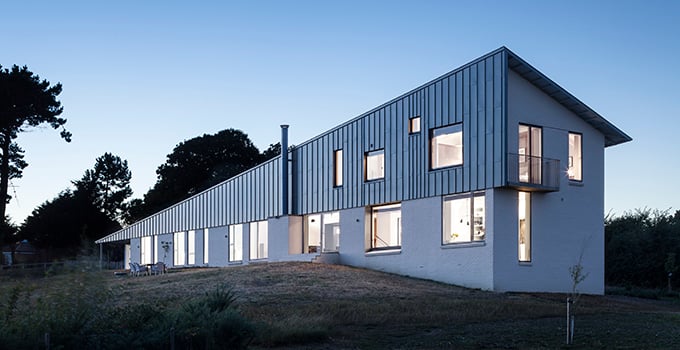 Mole Architects Ltd.
Winner of the RIBA Eastern Award 2017
Described by RIBA judges as a 'contemporary house making a bold architectural statement', Marsh Hill creators Mole Architects used composite VELFAC windows to punctuate the innovative, articulated zinc roof and white painted brickwork facades, and to frame the sweeping views of the nearby Alde estuary.
Every room looks out through large, slim-framed VELFAC windows, installed in a series of punch-hole windows, roof level units (to bring extra light into the interior), and full-height glazed sliding doors in the living and dining areas. The distinctive, slim VELFAC frame design maximises natural light and enhances the beautiful coastal views.
The highly durable VELFAC system is also ideal for the exposed coastal location; designed to cope with extreme weather conditions, including salt-laden winds, the external aluminium frame requires no repainting. The VELFAC system also guarantees low U-values and therefore excellent high energy performance.
Dalston Works, London Photo: Daniel Shearing
Waugh Thistleton Architects
Winner of The Evening Standard Eco Living Award 2018
Dalston Works, the world's largest CLT building, features VELFAC full-height glazed units, punch-hole windows and glazed doors installed in both residential and commercial units, with the system specified for its high performance features, contemporary design and sustainable construction.
Comprising of 121 apartments over ten storeys, set around two courtyards with housing, shops and restaurants, the project has received international attention for its pioneering architecture. It has become an exemplar project for high quality, high density, inner-city housing, and uses VELFAC glazing to help deliver healthy, comfortable and attractive spaces in which to live or work.
'Dalston Works is an ambitious project, and we knew that VELFAC could meet our challenging performance and design criteria,' explains David Lomax, Senior Associate at Waugh Thistleton Architects. Excellent acoustic control was a priority, and 'the VELFAC commitment to sustainability, in design, manufacture and performance, was an important benefit,' says David.
Bruyn's Court, Thurrock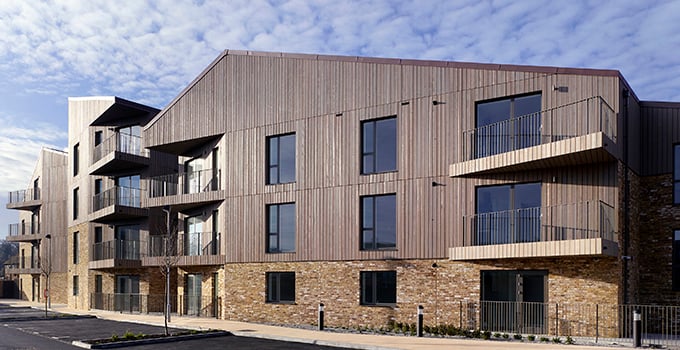 Bell Phillips Architects
Winner – 2016 RIBA National Award
Bruyn's Court is an architecturally innovative scheme comprising of 25 apartments for over-55s wishing to downsize to a property which can also adapt to changing physical needs.
The development, which features VELFAC windows and doors throughout, was described by RIBA as 'a positive landmark with the potential to kick-start a new era for the locale', and as a social housing project is unusual in its use of high performance building products and its contemporary design – reasons why the VELFAC system was specified, says Jamie Campbell, Consultant at Bell Phillips Architects: 'The slim, composite VELFAC frame ensures uniform sightlines, lets more natural light into the interior, and – as the system is better quality than many comparable products - is cost-effective for public sector projects. We also established an excellent relationship with the VELFAC team, another definite benefit.'