The Backgammon house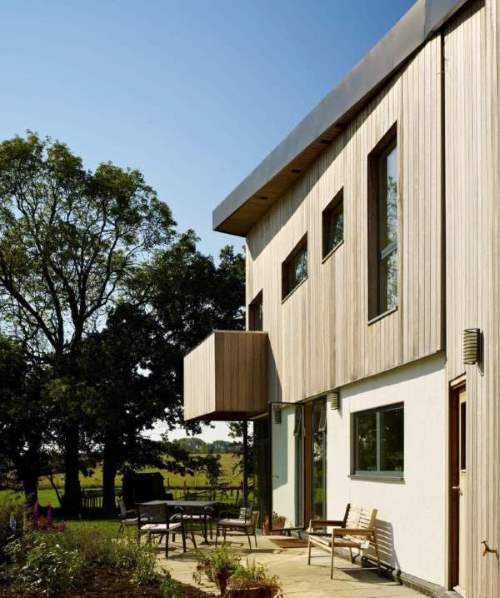 The Backgammon House, designed by sustainability experts Dr Kerry Mashford and Dr Frank Ainscow, together with Jason King of BE Consultants, combines practical design, innovative materials and intelligent building control to significantly reduce energy usage.
Around 65m2 of triple-glazed, argon-filled VELFAC 200 series windows are installed on the building's south elevation, shaded from the midday sun by a first floor balcony, with smaller glazed areas on other façades. VELFAC windows' high thermal performance allowed the generous use of glass without fear of unnecessary heat loss, while slim frames both maximise daylight entry and complement the contemporary styling. The House depends on well-managed solar gain, and so layout, orientation and glazing fully exploit this free energy source throughout the day, with the result that only minimal heating is required between November and April.
Double-glazed, argon-filled VELFAC windows have also been used in the double-storey winter garden, attached to the west elevation, designed to draw warm air from the house in the summer and replace it with cooler air via trickle vents and open windows in the northern façade. Automated opening vents in the winter garden façade employ actuators concealed within the VELFAC window frame, controlled by a WindowMaster system linked to temperature sensors around the building.
Air permeability targets were set at an impressively low 3m3/m2/hr at 50Pa, with the building was tested as soon as the external skin was secure and VELFAC glazing used as glass side panels and doors within internal draft lobbies built behind every entrance.
'We can't fault the delivery and installation process and off site and on site training, and by the level of technical support we received from VELFAC,' comment Kerry and Frank. 'The glazing was critically important to both the performance of the building and the architectural merit of the project. It was essential that we got it right.'