Cardinal Pole Catholic School is one of the most innovative redevelopments within an extensive BSF Programme which aims to refurbish or rebuild every school within the London Borough of Hackney.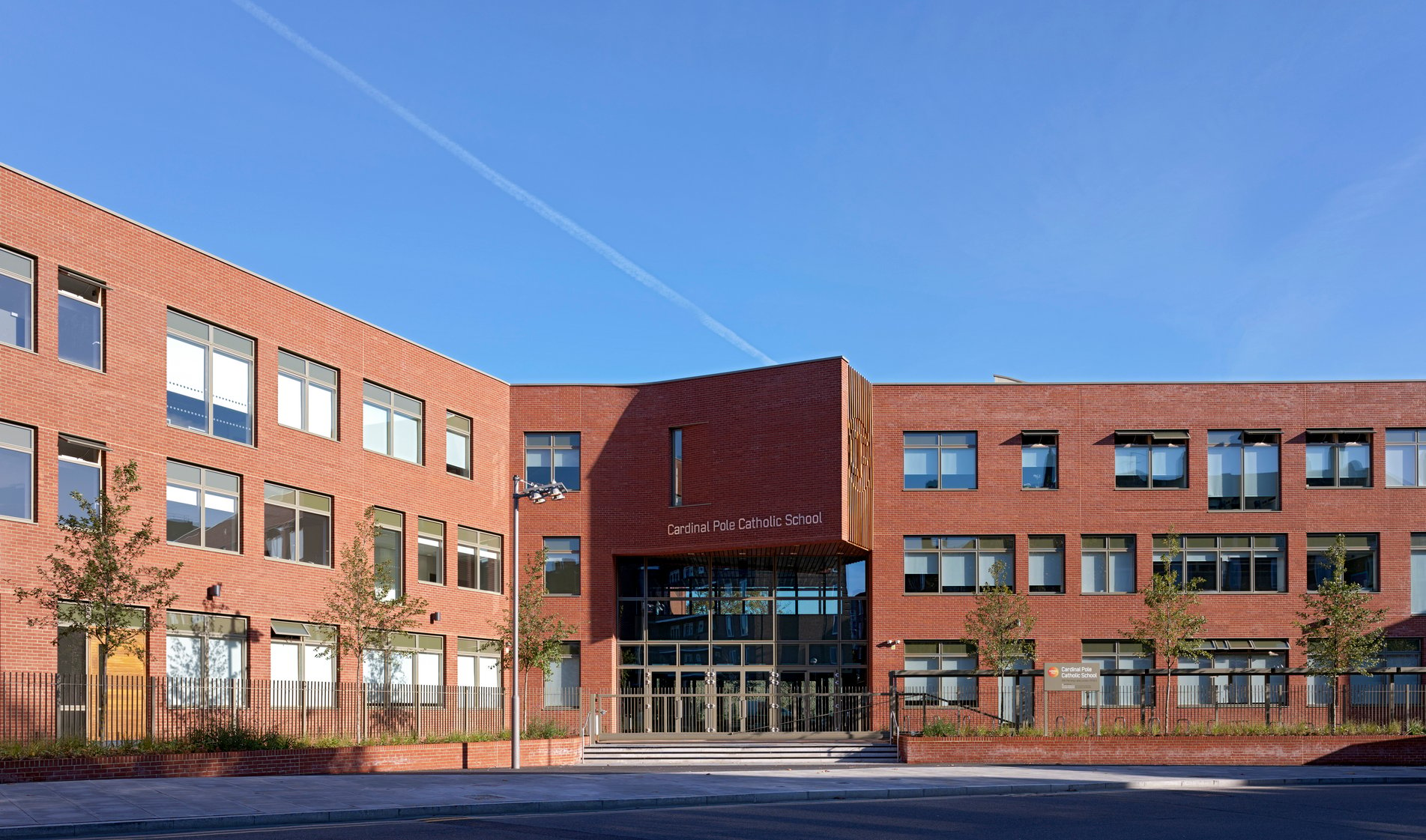 Cardinal Pole Catholic School – which features extensive VELFAC glazing - was designed by architects Jestico + Whiles, who worked with main contractor Balfour Beatty (then Mansell) to deliver a building both ambitious in scope and design and challenging in construction. The end result is an undoubted success. The School was shortlisted for a 2013 RIBA Regional Award and was a winner in the 2014 Hackney Design Awards, nominated by both architects and residents; according to the Award Judges, 'intelligent site planning and the judicious use of materials have created an uplifting learning environment with levels of sustainability integrated into the school'.
Cardinal Pole Catholic School is a three storey building housing 1,050 pupils and 150 staff in three separate wings, interconnected by a generous central 'street' which also provides natural light and ventilation. Over 2,100m2 of VELFAC glazing is installed in the school building, used in punch hole windows, fully glazed curtain walls (installed behind brise soleil and vertical solar shading), and in atria across the site.
The school site, bordered by major roads and a busy railway line, represented a major challenge for VELFAC as glazing had to deliver excellent insulation (acoustic and vibration) and airborne pollution control, while also incorporating opening lights linked to the School's natural ventilation system. As a result, VELFAC windows and doors were manufactured in over 30 different specifications to meet the varying acoustic, thermal and climatic demands of the building's different facades. Facing the railway lines, the noisiest aspect, each double glazed unit comprised a 8.8mm laminated pane with a clear acoustic interlayer, a 16mm argon filled gap, and a 10mm pane, delivering a 32.8mm window capable of reducing noise levels by 37Db. The security offered by such a durable window unit also met the UK Police 'Secured by Design for Schools' criteria – an additional benefit for the school and its pupils.
In order to deliver natural ventilation while minimising noise and pollution, VELFAC window units featured high-level transoms fitted with either remote manual openers (in the classrooms), or concealed motors linked to the School's BMS to allow automatic opening of windows installed above the internal 'street', and within curtain walling. These features, together with the impressive low energy performance of even a standard VELFAC window unit, helped the school achieve a BREEAM rating of 'very good', the minimum target set by Hackney Council.
The VELFAC technical team, including external designers Glazing Design Services, also won praise from main contractor Mansell Construction Services (now Balfour Beatty) for the technical support required to meet a number of construction challenges, including the installation of windows into a steel frame with spans of up to 8m in length, causing significant risk of deflection. In response, VELFAC adapted and adjusted frames, glazing and brackets in order to accommodate any deflection which might occur. Precise delivery was also required to ensure window installation progressed smoothly as there was very little on-site storage capacity at the School, especially as building progressed.
Cardinal Pole Catholic School was formally opened in 2012 and continues to win awards and attract praise for its imaginative design, while VELFAC glazing continues to deliver light, ventilation and excellent insulation to ensure peace and quiet for students and staff.