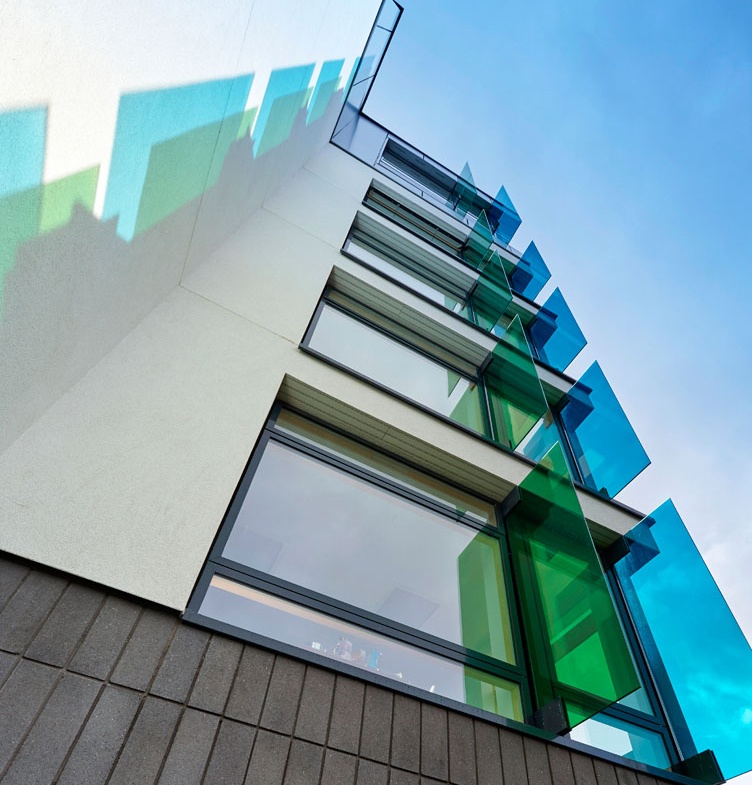 The building was designed around key principles; that it should be easy to maintain, highly energy efficient, and would represent exceptional value for money. The multi-storey building comprises 231 en-suite rooms and is already encouraging more students to live on the UEA campus – another element of the UEA brief.
Strict cost-performance parameters
VELFAC worked closely with LSI on a flexible glazing solution which could deliver the energy performance required without exceeding strict cost-performance parameters. Double and triple glazed windows and doors (achieving U-values as low as 0.8W/m2K) are installed across the building, with the VELFAC slim frame also maximising natural light and solar gain. VELFAC units feature sustainably sourced wood and recycled aluminium –important to a highly environmentally-conscious UEA. The composite design is also impressively low-maintenance, with aluminium providing a durable exterior, and warmer inner pine framing finished in a clear, hard-wearing varnish.
Contemporary, stylish design
VELFAC was also specified for its contemporary, stylish design, used in both punch hole windows and glazed walling. Coloured units were installed across floor slabs, and the system's uniform sightlines were used to create seamless exterior facades, further enhancing the distinctive architecture. VELFAC was also able to meet the challenging delivery and installation demands of a very quick build, essential for an education building.
Crome Court has attracted significant attention since completion, winning the 2015 RICS East of England Awards 'Design through Innovation' category, and being shortlisted for both a National RICS Award (in the same category), and for a British Construction Industry Award. UEA was also so impressed with the end result that a further student block has now been commissioned – this time for 900 rooms – also featuring VELFAC windows.