Deaconess House, a major student accommodation project for the University of Edinburgh, features VELFAC windows in a series of impressive, innovative new-build accommodation linked to a refurbished Victorian hospital. The composite windows and doors are a distinctive element within the different facades of the multi-storey blocks, also delivering essential low-energy, low-maintenance performance.
The glazing was specified by Tryfon Kalyvides of The Kalyvides Partnership: 'We wanted to achieve fine and sophisticated detailing with win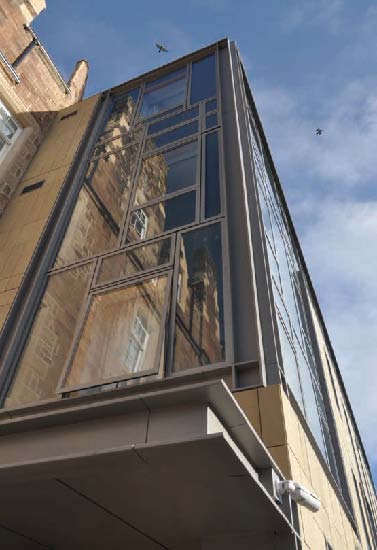 dows forming an important part of the overall composition,' he explains. 'The VELFAC system is unique in that every window has a slender frame and uniform sightlines, so opening lights are indistinguishable from fixed. This increases the uniformity of the facade and adds to the quality of the design.'
Deaconess House is a complex development, architecturally and structurally. Facing the street, VELFAC is used as punch-hole windows and to create an upper storey glazed facade, while the inner courtyard features a dramatic 'shifted geometric' design. External aluminium framing, finished in deep grey, complements the grey stone used in the build, while the clear lacquered inner pine frame adds warmth and colour to student rooms and shared spaces. 'We used VELFAC glazing within a natural stone cladding system to deliver a sharp, mature exterior,' comments Tryfon, 'and at the upper levels, where a lighter aesthetic was demanded, we installed VELFAC units within glazed spandrel panels to give the effect of curtain walling but at a scale appropriate to the neighbouring refurbished hospital building.' To achieve the 'more abstract' courtyard facades, VELFAC windows and doors were installed within a perforated mesh panel system. 'Across the building the uniform VELFAC sightlines are used to bring together the external and courtyard facades, providing a visual link which also helps unify the development.
Achieving this unity depended on the successful installation of the VELFAC system within these different interfaces, and both the VELFAC technical team and the company's installers provided the excellent support we needed to achieve our goal.' 'The system is clearly value for money,' says Tryfon, 'It is continuously tested and improved to meet the performance requirements demanded of standards such as BREEAM and the Code for Sustainable Homes. I have specified VELFAC for most of my independent career and I always encourage my clients to consider the system.'