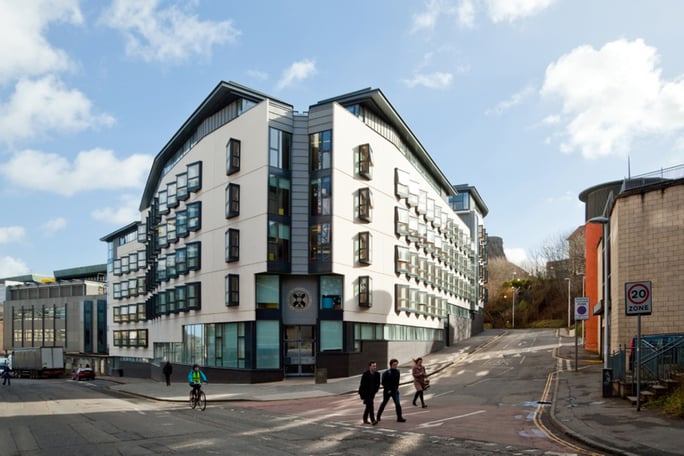 Built as part of the Edinburgh Old Town master plan, Holyrood South maximises its urban footprint by echoing the high-density dwellings of the original medieval quarter in a building which combines innovative design with excellent energy performance.
Distinctive facades
Richard Murphy Architects specified VELFAC aluminium / wood glazing throughout the multi-storey project, also using the system in the distinctive protruding bay windows installed in street facing facades. These fully exploit the benefits of the composite VELFAC design; external aluminium frames, finished in dark grey, are both highly durable and provide a dramatic contrast to the white imprinted concrete finish, while the inner pine frame, finished in a clear lacquer, adds warmth and light to the comfortable window seats installed within the bay window space. Impressively low U-values also ensure excellent thermal performance, and also acoustic insulation from external traffic noise.
'No external visual distinction'
'We specified VELFAC because there is no external visual distinction between fixed and opening lights,' says architect Kris Grant. 'The windows could also achieve the U-values required for the BREEAM Excellent rating,' he adds, 'while the trickle vents are very discreetly built into the window frame.' These benefits allowed Kris to install the VELFAC system in multiple combinations, especially around the interior courtyard. Here large windows and corner glazing maintain the emphasis on light, warmth, and exterior views, especially for communal spaces and walkways, with glazed and panelled curtain walling adding a further dimension to the facade design.
Low maintenance, high performance
Holyrood South is now being used by post-graduates and for conferences, with the low maintenance, high performance glazing proving ideal for the high density, high traffic building: 'The University appears to be very happy with the result,' adds Kris, 'and feedback from recent conference delegates was also very positive.'