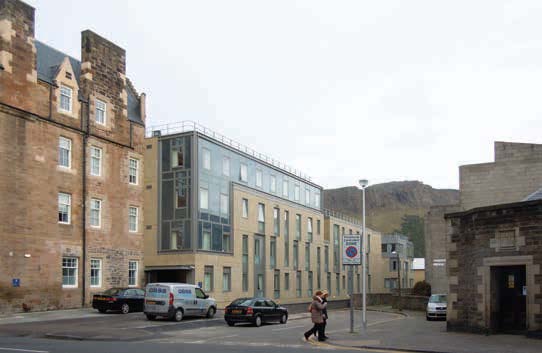 Velfac's low-energy glazing is helping architects and clients keep student rooms warm and bright, efficiently and within tight budgets.
Nationwide investment in higher education buildings – especially student accommodation
– continues, with the sector setting the lead for quality, low-energy, sustainable projects, delivered within challenging budgets. In terms of windows, this means an increased emphasis on cost-effective design, but not at the expense of performance or function. 'We have seen rapid growth in university accommodation projects across the country,' says Velfac sales director Andy Cook. 'Our composite system is specified for its durability and low-energy performance (U-values as low a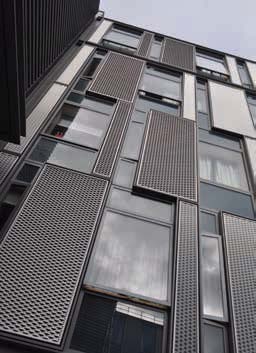 s 0.8W/m2K for triple glazed units), making VELFAC cost-effective for higher education.
The system also has a distinctive contemporary style. Exterior aluminium framing, featuring
uniform sightlines, is being installed in exciting and innovative facades, while the inner pine frame actively enhances interior spaces.' Student accommodation presents specific challenges for window system manufacturers, he says: 'Glazing must ensure excellent acoustic insulation, essential for high density housing often on inner city sites, and must require minimal maintenance, despite heavy use. Natural ventilation is also increasingly common, and requires a combination of fixed, manual and motorised lights within the same glazing system.'
These challenges can be met by products with built-in high performance, explains Cook: 'Our composite frame is highly durable and easy to clean, and delivers uniform sightlines to ensure a clean exterior finish, sustained across multiple unit types including motorised windows.' Because of these benefits – and more – Velfac glazing is highly cost-effective for university
projects, especially compared to aluminium alternatives: 'Our clients don't want to sacrifice style or innovation to achieve sustainable solutions within fixed budgets,' says Cook. 'Velfac windows can help deliver efficient and effective accommodation, and often contribute to awardwinning architectural quality.'