VELFAC composite windows and doors deliver low-energy, low-maintenance performance at the Lantern Craft Workshops in Ringwood, while at the same time enhancing the bright, light and positive atmosphere that has proved to be such a success with everyone who works there.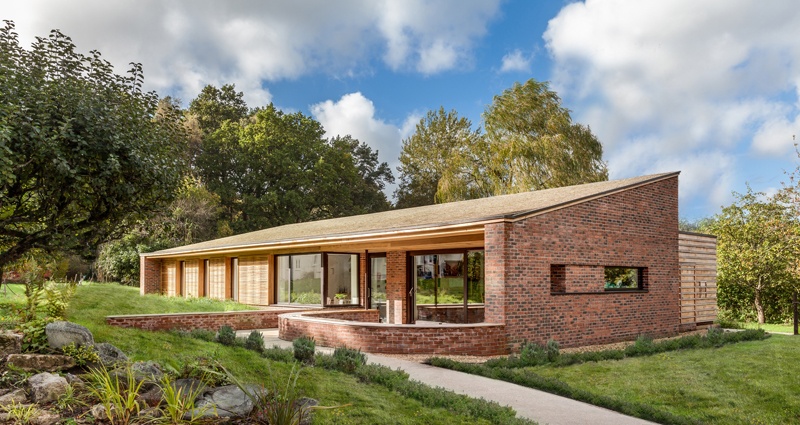 Designed by CaSA Architects, the combination of functional space with inspirational design gained the Workshops a 2015 RIBA Regional Award, the 'Best Community Benefit' award from RICS South West, a Commendation for the 2015 Brick Awards' 'Best Public and Education Building', and was named as a Regional Finalist for the Civic Trust Awards 2016.
The Workshops provide much needed space for the pottery, weaving and crafts undertaken by residents of the Lantern Community, which provides meaningful work for people with learning difficulties. Project Architect Adrian Biles-Wood specified the VELFAC system for large glazed areas, high-level automated windows and punched hole openings, noting that 'few competitor products feature the architectural language of the VELFAC system, especially the composite frame and reduced sightlines. These features allowed us to create large openings which illuminate the workshop interiors and provide a visual connection with the landscape.'
The finishes specified for the composite frames reflect the colour palette of the build. 'The external aluminium is finished in a Graubraun (Grey Brown) polyester-powder coating to complement the clay brick and render, and to match the pre-weathered copper used to edge the shingle roofs,' explains Adrian. 'Internally, the frames are painted also in Graubraun to frame the opening against the soft white reveals which further minimise the already slim frame.' Energy efficiency was vital, given the large expanse of glass fronting the open-plan workshop space, but Adrian worked with VELFAC to ensure the system achieved the required air tightness 'with the result that the Workshops are now 'super-insulated' and draught free and so very cheap to run,' he comments.
The Lantern Community is delighted with the result: 'They had not seen windows like VELFAC before so we had to explain the concept and benefits, and also the fact that they represent good value for money,' says Adrian. 'They are very pleased with the glazing, but especially with the connection it makes between the workshop space and the beautiful wooded landscape beyond.'
Photos: Simon Maxwell