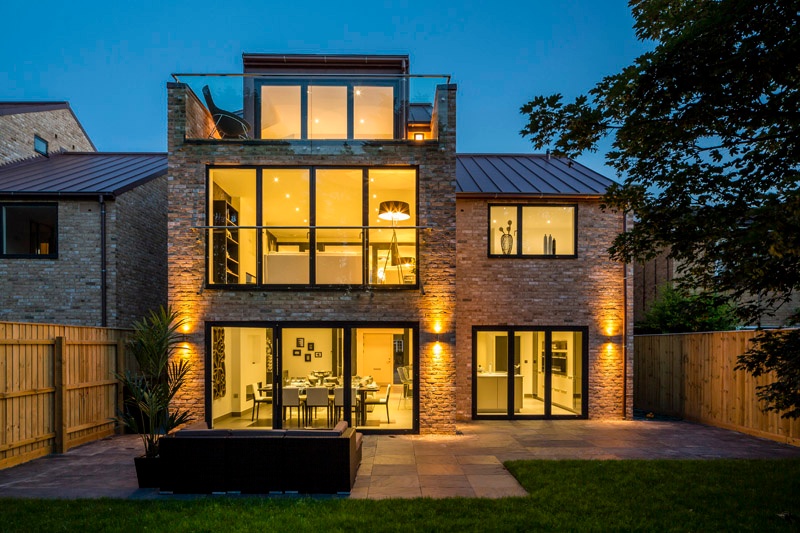 VELFAC windows – and entrance doors - are also used in front facades to maintain a consistent, contemporary aesthetic across the development.
Exacting standards
Designed by DPA Architects and Dean & Dean Construction, Spens Avenue is built to exacting standards using high performance materials. 'Quality was an important specification guideline,' comments architect Chris Senior, 'and so we looked for sustainable, low-energy products that would also enhance the value of the whole development.' Dean & Dean Managing Director Tim Dean agrees, adding: 'We build high quality dwellings and so we only choose products that are both high performance and low maintenance – we've used the VELFAC system in a number of our projects for this reason.'
Low energy performance and slim frame design
With windows such a major feature of each house, the glazing had to satisfy a demanding brief - but VELFAC was specified without hesitation. 'We've used the product many times for its combination of low energy performance and slim frame design. Both were essential for the rear-facing large sliding glazed doors, used as a front to the upper storey living space, and we knew the VELFAC system could ensure excellent thermal insulation and (because of the slim frame) bring more daylight into each room while making the most of beautiful views.'
System uniformity was also an advantage, comments Chris ('as all glazing retains the same proportions'), as was the range of available coatings. Used, once again, to maintain the contemporary style, inner pine framing was painted white to enhance the bright and light interior, while a dark blue/grey finish was specified for external aluminium to provide a deliberate contrast to the light yellow brick and bronzed zinc roofing, and to match the darker brick used in the garages.
Architect: DPA Architects Ltd.
Developer: Dean & Dean Construction
Window: VELFAC 200 system windows; VELFAC 600 access doors.