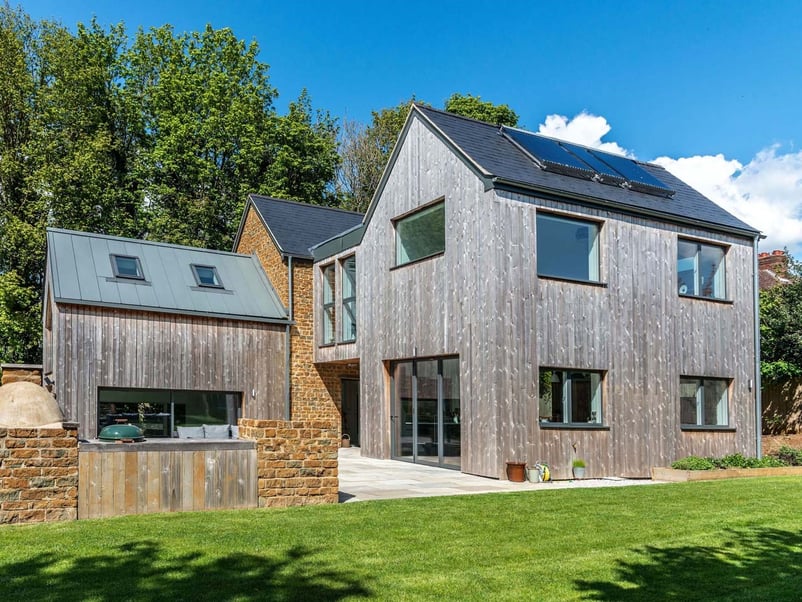 This beautiful four-bedroom family home, built by owners Tom and Frances Edwards, combines impressive sustainability with innovative design.
Project information
Project: Barn style family home
Sector:Self-build
Homeowner: Tom and Frances Edwards
Specified for: Composite frame construction • Uniform sightlines and different frame shapes • Slim, uniform frame design • Extra-large windows without mullions • Thermal performance • Cost-effective pricing
The two-storey timber-frame construction deliberately reflects the architecture of local barns with its use of ironstone and cedar cladding, and a seamed metal roof. The home also features VELFAC composite windows throughout, installed to maximise daylight across the open plan interior and deliver excellent insulation, a stylish and contemporary finish, and uninterrupted views.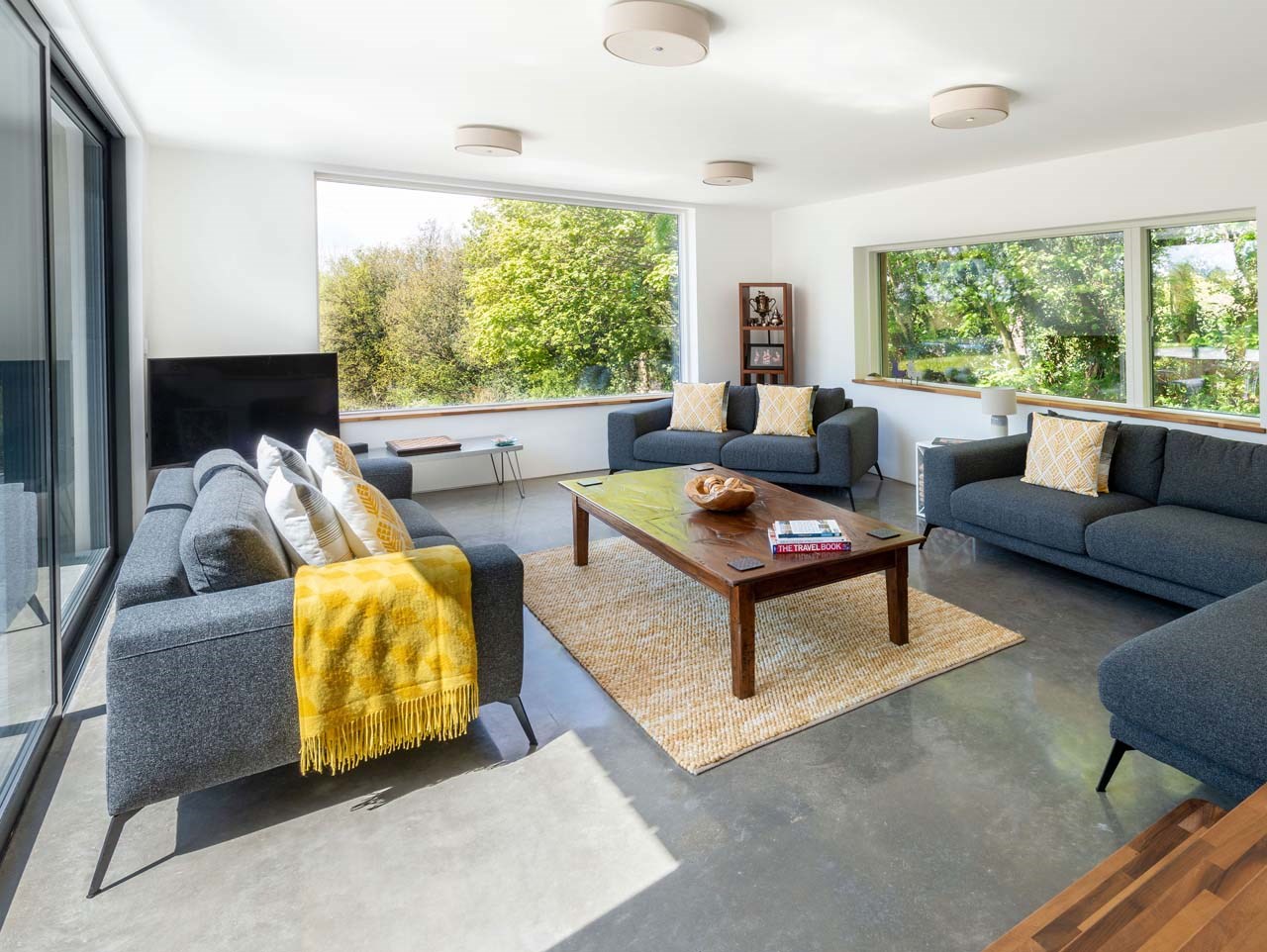 Right from the start Tom and Frances knew they wanted triple glazed composite windows: 'As an engineering director with many years' experience I knew of the benefits of aluminium / timber glazing,' says Tom. 'When researching potential suppliers we looked for the ideal balance of budget, performance, quality and design. As the house is built to Passivhaus principles, air tightness and insulation were also key priorities. The slim VELFAC frame design immediately stood out from the competition, as did the uniformity and symmetry of every VELFAC window, even when fixed and opening lights were combined in the same unit. Thermal values were also very good and, just as important, the VELFAC system was within our budget.'
VELFAC triple glazing is installed in every room, carefully positioned to flood open plan living spaces with natural light and with VELFAC SUN glazing (which features a clear reflective coating) helping minimise solar gain: 'Around 35% of wall area is glazed,' says Tom, 'and VELFAC was the only supplier able to deliver triple glazed units in larger sizes without mullions. This meant we could install an extra large 3m x 2m fixed glazed panel in the living room, and I have to say that the performance of the windows is phenomenal. They are draught free and the internal pane never feels cold. As a result the house maintains an internal temperature of around 21o all year round, and we don't need additional heating until late November, and then only two or three times a week.' Impressive insulation also delivers great acoustic control: 'Although external noise was never a concern, now the windows are installed you really notice the difference,' says Tom.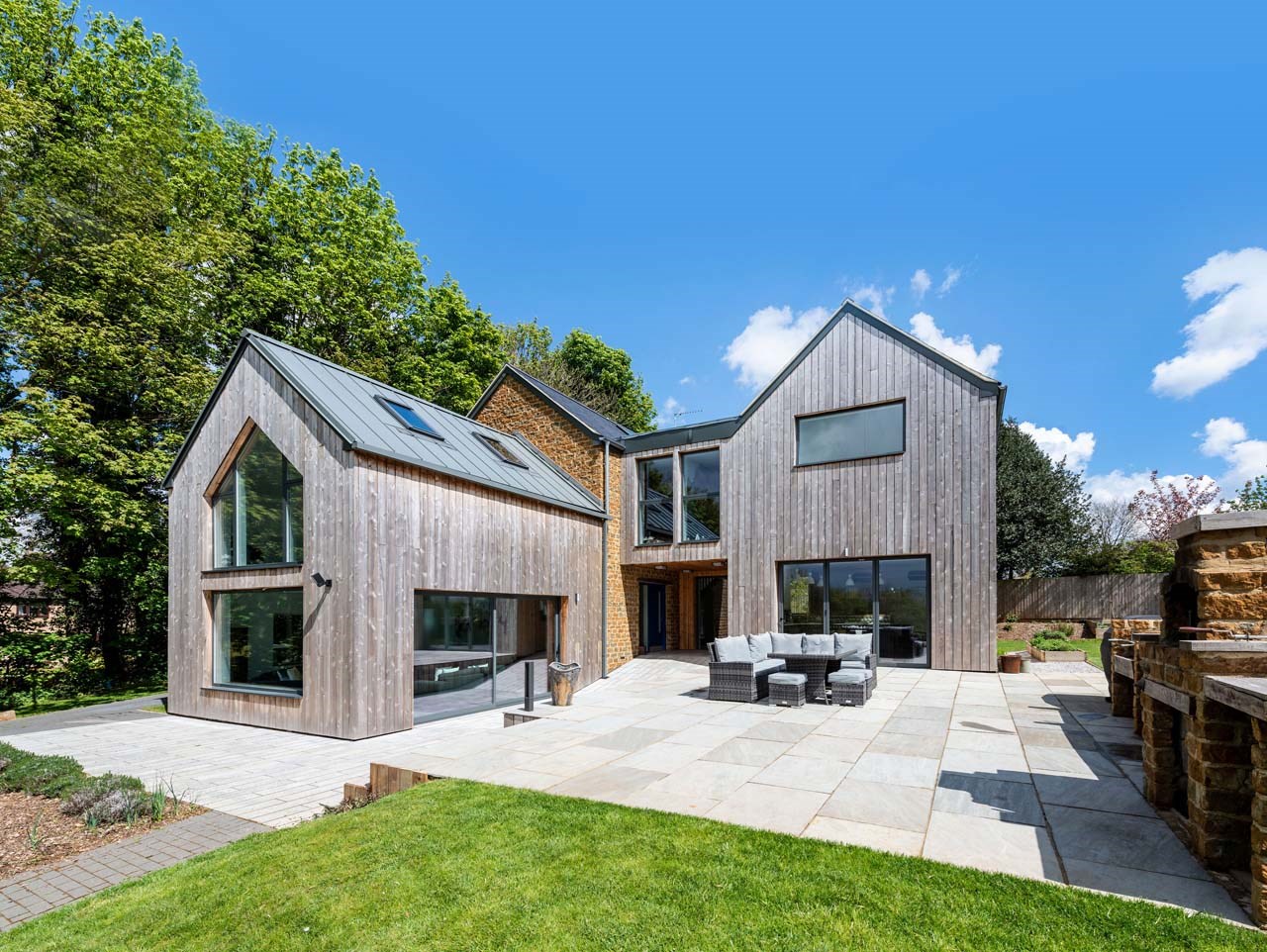 The versatile VELFAC system also allowed Tom to specify a different frame finish inside and out: 'As we used walnut for window sills and other joinery we opted to paint the internal VELFAC frames in white, to avoid a mis-match in tone,' Tom explains. 'External aluminium frames are finished in dark grey to complement the cedar cladding, which was bright orange when installed but is now a beautiful silver.'

VELFAC front and side doors, finished in navy, added the final touch, and the family finally moved into their home in 2018, after only nine months of building work. The house has now been shortlisted for a Built It 2021 Award for 'Best Self-Build Home', recognition of Tom and Frances' commitment to sustainability and their innovative approach to design.
Considering VELFAC?
If you have any questions you are more than welcome to contact us. We are ready to help.