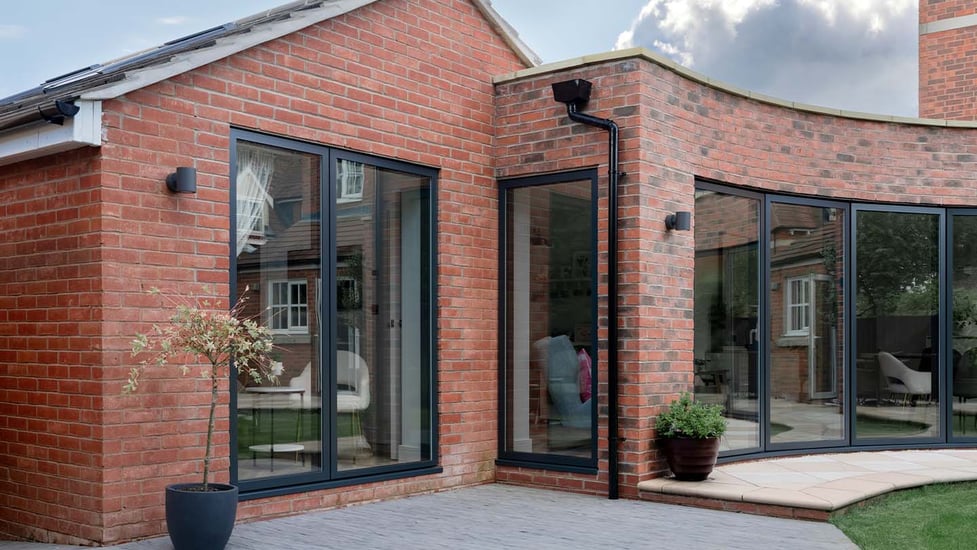 An unusual - and super stylish - faceted window screen is the central feature of a beautiful extension to this family home in Kenilworth. 'The brief was to add more space,' says Paul Tracey, MD of main contractor Paul Tracey Construction.
Project information
Sector: Home extension and refurbishment
Main contractor: Paul Tracey Construction
Architect: Jonathan Holland Architect
Windows series: VELFAC 200
Frame finish: Anthracite grey (internal and external frames

Specified for: Slim frames • Contemporary design • Excellent insulation • Technical support
'The owner - Eilidh Robertson - wanted to expand a four bedroom home to provide extra room for their young children, and to add ensuite bedrooms so that visiting friends and family could have more privacy.'
The result is an unusual curved extension, featuring full height VELFAC windows, which joins the main house to an existing, separate, garage now converted into bedrooms. 'The curve was the vision of Jonathan Holland Architects, and is designed to give the extension a more organic 'flow',' explains Paul. 'Initially the home owners were doubtful that the resulting space would work but now they love it - they say it has changed their lives!
Bespoke VELFAC aluminium / timber windows
The curved glass wall is made up of seven bespoke VELFAC aluminium / timber windows, all fixed, with additional glazed doors and sidelights set into the walls at either end of the window run. Having so much glass in a single facade was a bold move and meant that window choice was very important, not just aesthetically but also to make sure the extension was comfortable to live in all year round, well insulated and well ventilated. 'The architect recommended VELFAC to the homeowners who really liked the product when they saw it,' explains Paul: 'We really liked the modern sleek look that the VELFAC windows offered,' adds Eilidh.
The windows are double glazed (solar shading wasn't needed as the extension faces north east) with trickle vents providing easy ventilation. Both internal timber frames, and external aluminium, are finished in anthracite grey. This is a a deliberate contrast with existing white-framed windows elsewhere in the property, and make the windows - and the extension - even more of a feature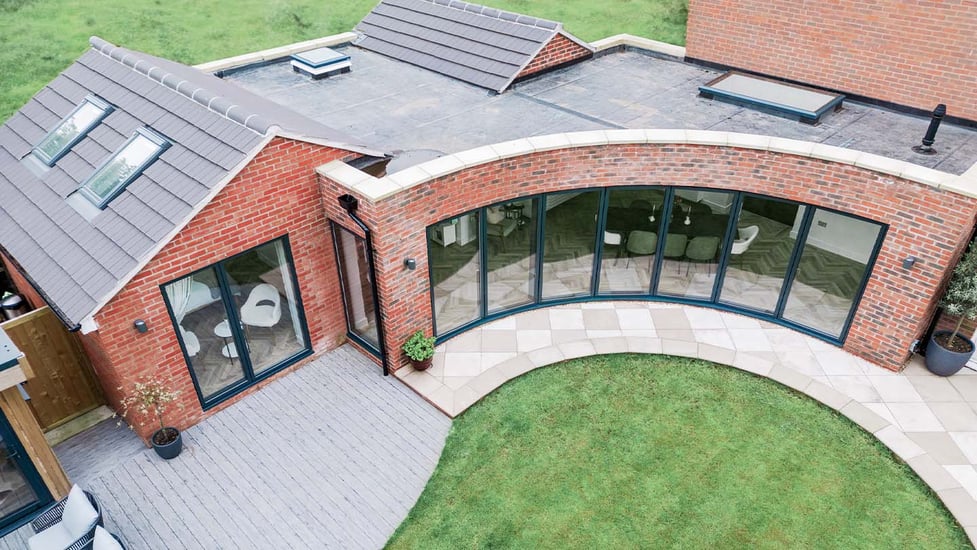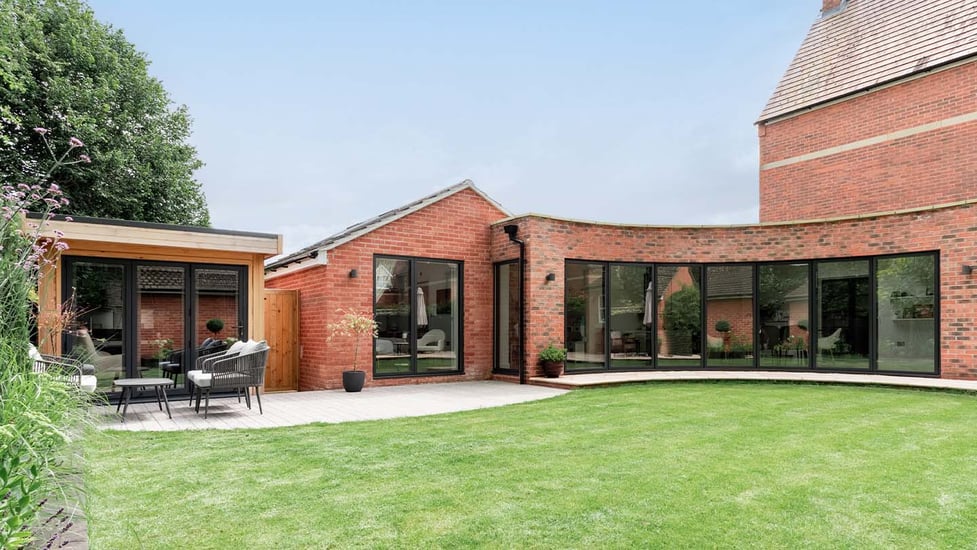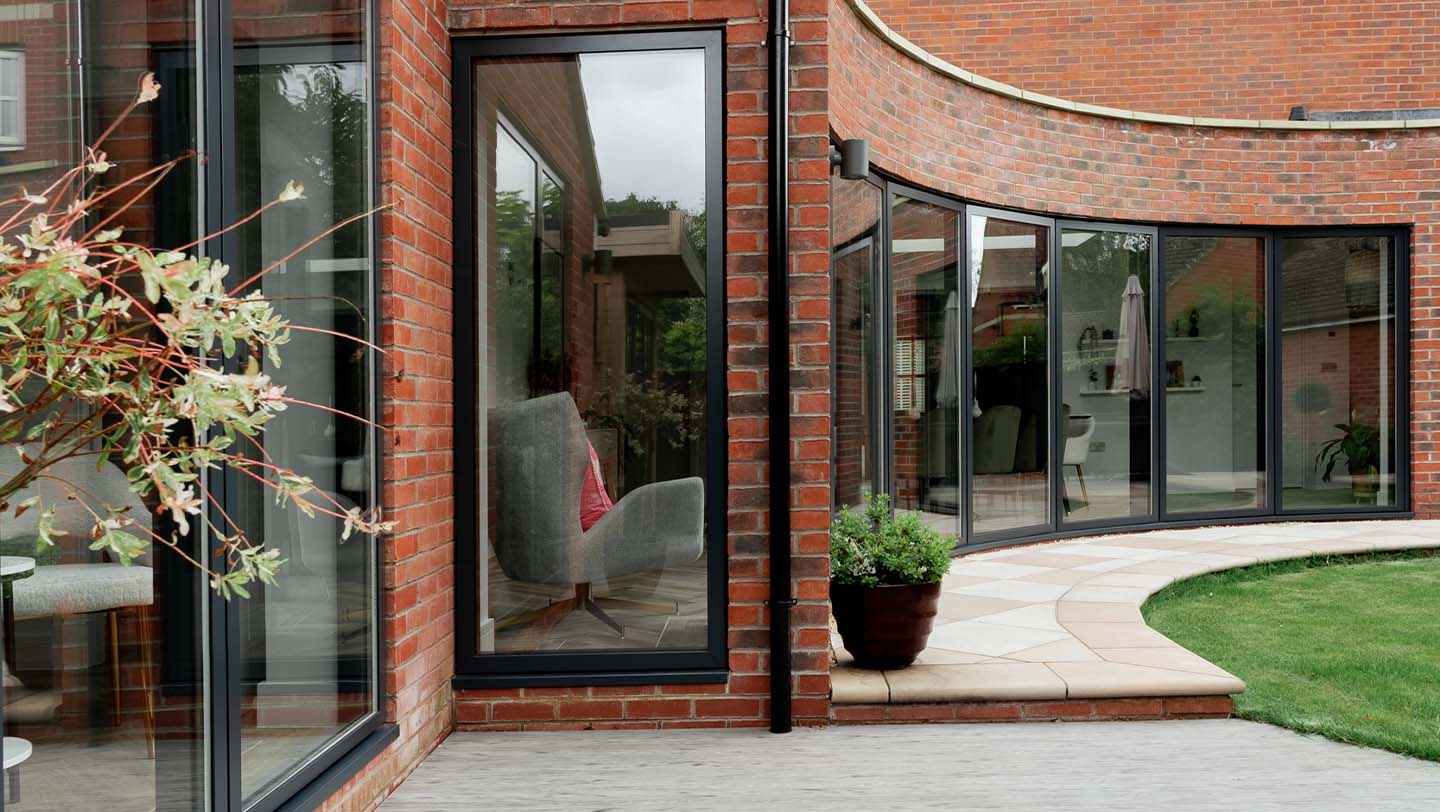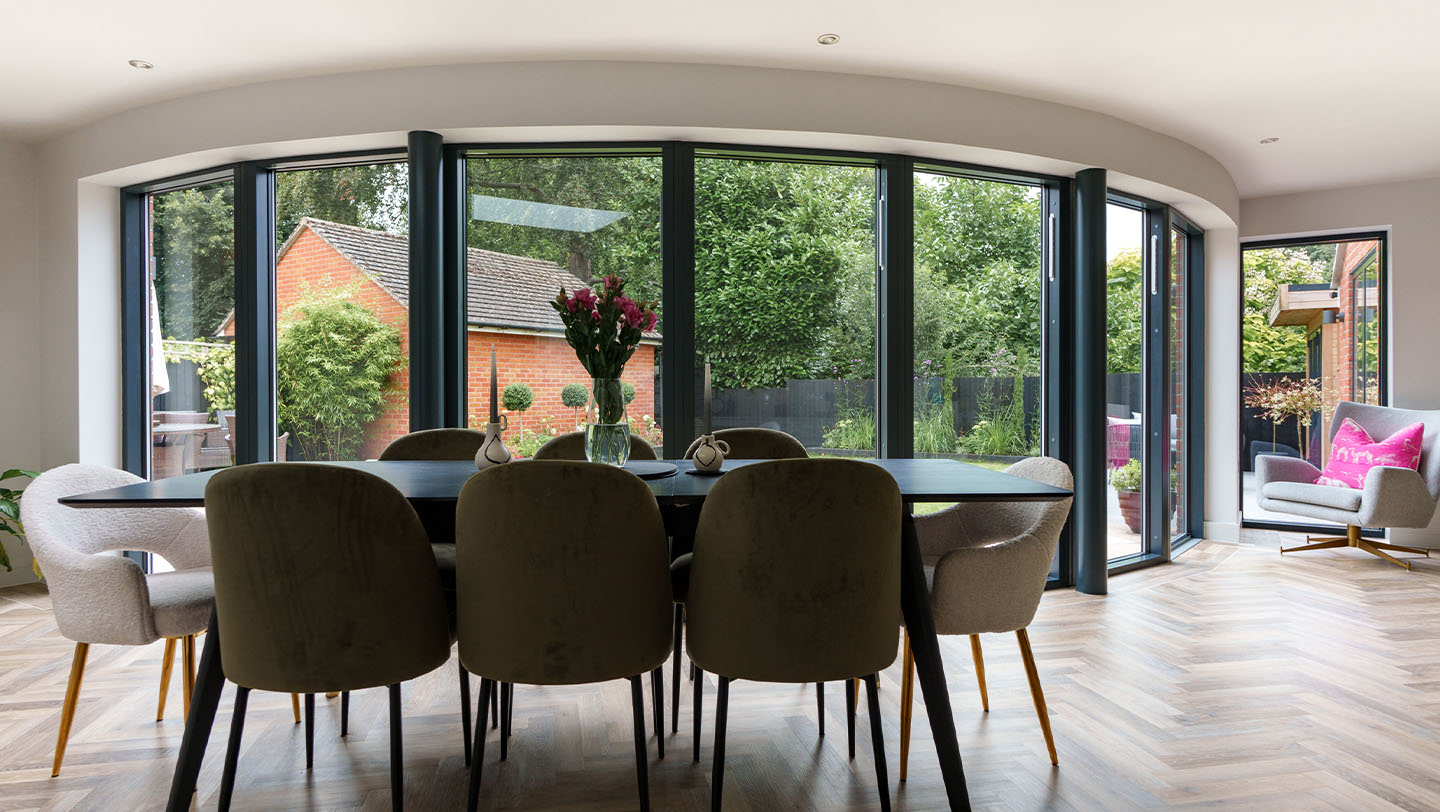 Curved windows
Installing the curved wall was a significant technical challenge admits Paul, but one that was handled very successfully by VELFAC Distributor NKG Composite Ltd which provided a full project package including site survey, design and setout, supply and installation. NKG Composite Ltd also supplied a specially made curved aluminium cill designed to complement the faceted screen. 'Achieving a seamless curve is always tricky, but NKG worked closely with the architect, the VELFAC team and myself, to ensure each window was exactly aligned with the steel beams which formed the curve.'
The project is now complete and the family are delighted with their newly extended home: 'We love the new extension, and the VELFAC windows are both stylish and functional,' says Eilidh.
Considering VELFAC?
If you have any questions you are more than welcome to contact us. We are ready to help.