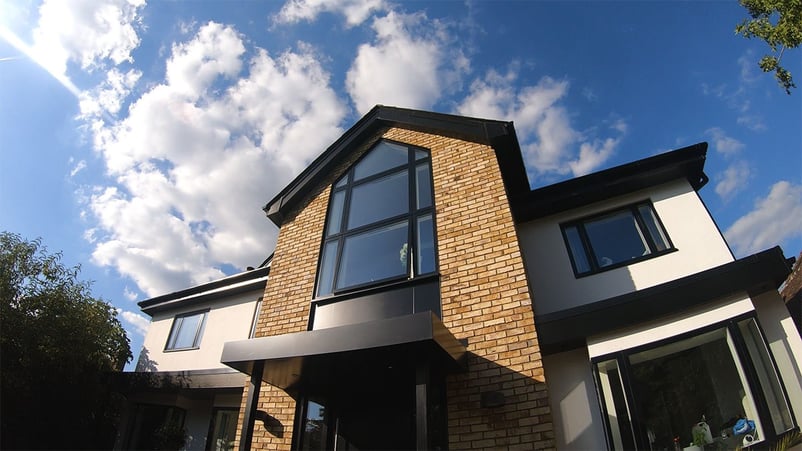 A radical remodelling of a 1950's house has given filmmaker and photographer Stuart Chapman a beautiful, and impressive, family home.
Project information
Sector: Renovation

Specified for: Extra large, outward opening double sliding doors • High quality, versatile design • Composite frame construction • Different frame colours inside and out
The transformation, designed and project-managed by Stuart, includes multiple VELFAC aluminium/timber windows installed as individual units and combined in a two storey window wall. Star of the show, however, is the 'party room' - a large open-plan rooftop space featuring an extra-large VELFAC double sliding door to provide light, air, and wonderful views.

'I've always been interested in architecture and I'm obsessed with the look of a property,' confesses Stuart, who designed the house himself before engaging a building consultant (to submit plans to the local council) and then a main contractor once planning permission had been granted. 'I had seen the VELFAC system in projects on TV's 'Grand Designs' and really liked the minimalist external frames, the uniform sightlines and the Scandi-style interior finish. I looked at case studies online, visited the VELFAC showroom to see the product, and realised that VELFAC composite windows would deliver the ideal aesthetic - clean, modern, and very contemporary.'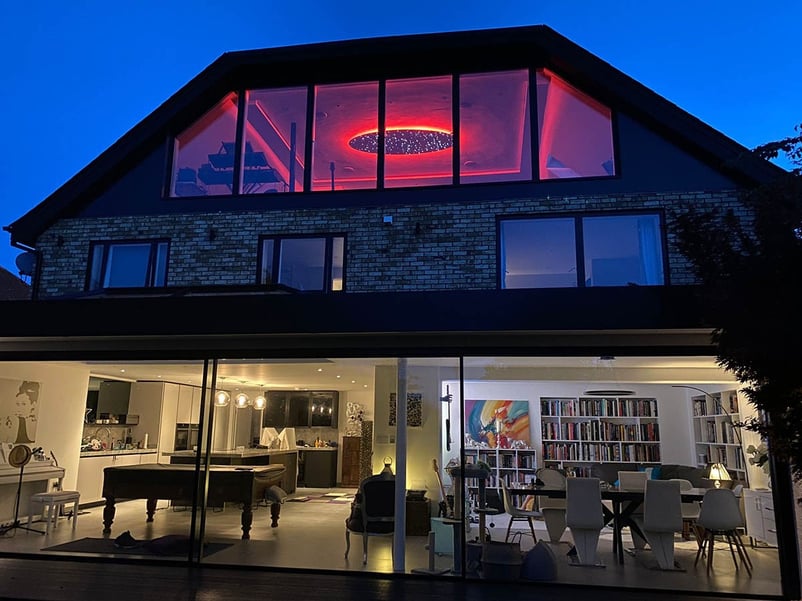 Stunning design and functionality
Stuart specified mainly top hung and fixed VELFAC units, and opted for white painted internal timber frames and black external aluminium to complement the reclaimed yellow brick and white render facades. As a bespoke solution, VELFAC could also supply the multiple different shaped units Stuart needed to create the glazed screen, rising above the front door, the triangular roof windows and the angled fixed units flanking the large sliding door in the 'party room'.

And it's this double sliding door which really delivers the 'wow' factor, although Stuart was initially doubtful as to whether his ideal door design would comply with Building Regulations. 'I wanted to remove the existing roof and build a large, open plan space with a floor to ceiling sliding door to deliver more natural light and fresh air, and to make the most of views over nearby fields. To meet Building Regulations, however, I thought we would have to install a heavy Juliette balcony across the entire width of the exterior, which would be both unsightly and very expensive.'


Beauty, compliance, and energy efficiency
A VELFAC double sliding door proved to be the ideal solution: 'The VELFAC sliding door opens outward and then slides back across matching fixed glass panes,' explains Stuart. 'This allowed us to fit the balcony inside the room and only across the opening section which meant we could comply with Building Regulations. We chose a glass balustrade which we bolted to the internal VELFAC timber frame and the end result looks great - sleek and uncluttered both inside and out, and also much less expensive.'

VELFAC delivered more than just a clean aesthetic, adds Stuart: 'The VELFAC windows replaced old, poorly performing PVCu units and together with improved heating and insulation, our energy use has totally changed. We definitely turn the heating on much less than before, and rarely use the radiators in the party room. Yet the house always feels comfortable, well ventilated and with good air circulation, and we no longer experience any condensation as we did with the old windows.'

VELFAC also proved the ideal partner in the smooth delivery of Stuart's build: 'Dealing with VELFAC was never stressful,' he says. 'The team was very responsive and quick to solve any problems, and we are very happy with the end result.'
Considering VELFAC?
If you have any questions you are more than welcome to contact us. We are ready to help.