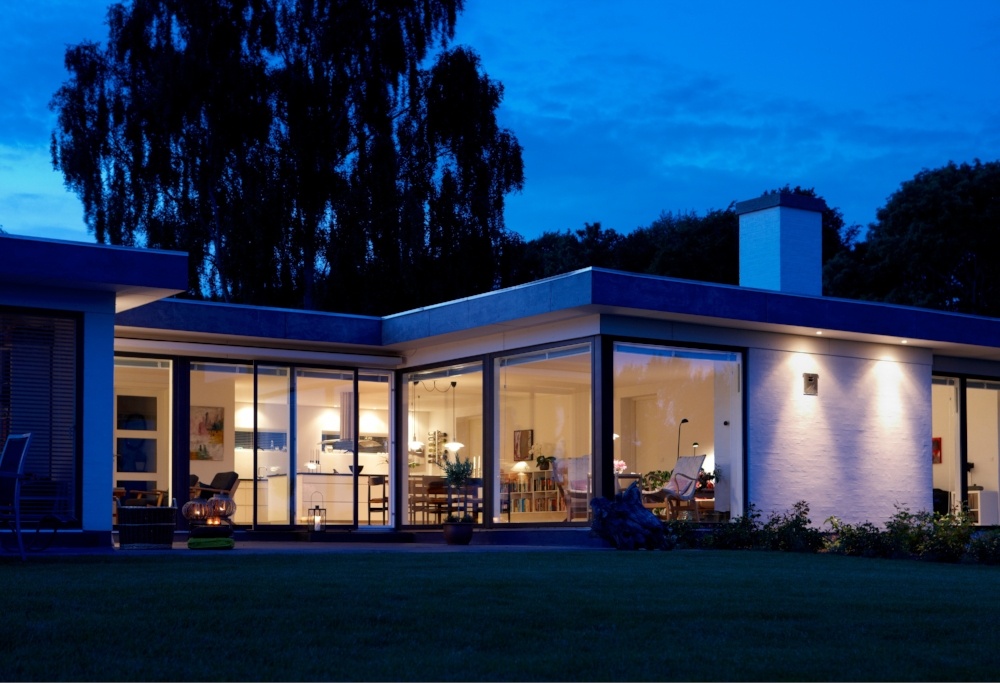 Summer holidays, Easter breaks, Christmas with the family – popular times to go away are also popular with burglars. So don't make it easy for thieves to target an empty home by taking a few sensible precautions before you start your journey:
1) Shine a light
A light makes your home look occupied – especially if your curtains are open (leaving them closed can be a sure sign that there's no one in). If you don't want to leave a light burning all the time you're away, invest in automatic time-switches that can turn a light on after dark, and at different times of day.
Outdoor security lights with movement sensors are also invaluable – they make it harder for possible intruders to move unnoticed around your property and alert your neighbours.
2) Remember to lock - thoroughly
It may sound obvious, but make sure you have locked all your doors and windows – including patio and garden doors – and if your windows are older or don't have locks on them, consider investing in new window units with lockable handles. Added safety means added value.
3) Hide your valuables
With more and more gadgets around the house, it's easy to leave a laptop or tablet in plain view – especially through the window. Burglars may also be interested in other items, so perhaps move your designer furniture, new TV or expensive sound system out of view while you're away.
4) Lock away your garden tools
Don't make life easier for thieves by leaving an axe, spade or ladder (which could reach that open window on the first floor) in an unlocked shed or garage. Although most burglars prefer to break in as quietly as possible, don't give them the tools they need to enter quickly – and to damage your property even more.
5) Don't tidy up too much
The more lived-in a house looks the better. Leave some washing on the line, a few toys in the garden, and use your wheelie bin as an additional anti-theft device. Ask your neighbours to throw some of their rubbish into your bin so it looks like someone is still at home.
6) Good neighbours
If you have good neighbours – even if they're not next door – then they can play an important role in keeping burglars away. Perhaps they can park a car in your driveway, check that your post isn't sticking out of your letterbox or deliveries are left on your doorstep, and they can make sure your bin is out and ready to be emptied - and do the same for them when they're on holiday!
7) Invest in burglar-proof windows
Police statistics show that most intruders are opportunistic and will give up in under three minutes if they can't force their way into a property. As windows and patio doors are a common target for burglars, consider installing glazing accredited by the UK Police initiative 'Secured by Design' (SBD).
SBD-approved glazing is designed to resist forced entry with features that include at least one pane of strengthened laminated glass, beading (the seal holding the glass in the frame) only on the inside, and multi-point locking, and lockable handles and restrictors. Windows with external aluminium frames also minimise potential damage done by tools such as crowbars or screwdrivers.
Find out more about Secured by Design, and about VELFAC SBD approved glazing here.