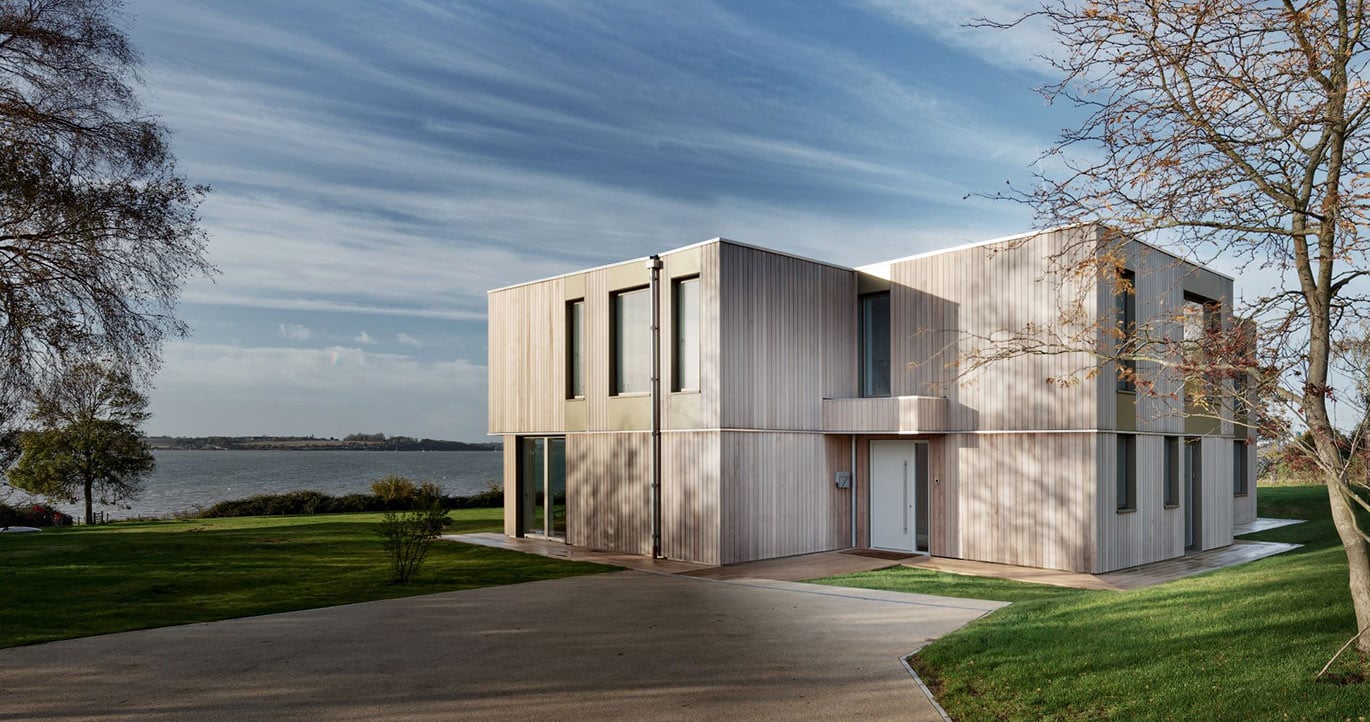 This beautiful, contemporary family home features generous swathes of VELFAC triple glazing on every floor, providing far reaching views over the River Stour while also flooding every room with plentiful natural light.
Project information
Name: Stour house, Suffolk
Sector: Bespoke new build home

Design & Build: Facit Homes

Specified for: Triple glazing, including extra-large units, for ultra-low U-value • Slim frames for maximum daylight and far reaching view • Hardwearing aluminium exterior, attractive inner timber fram • Scandinavian design - clean lines and natural material

Window system: VELFAC 200
Stour House was purpose-built by award-winning UK design and build company Facit Homes, with a brief to replace an existing cottage with 'an exemplary piece of contemporary architecture that was sensitive and responsive to its location'.
The result is an innovative, modernist home with a striking facade. On the upper floor, large VELFAC triple glazed windows are deep set into splayed reveals which add external drama to the western red cedar facade. External aluminium VELFAC frames are finished in pale grey, complementing the red cedar as it fades to silver while also fitting seamlessly into the aluminium panels that create the dramatic reveals. In contrast with the more structural upper floor, expansive full height triple glazing - fixed and opening - brings transparency to the ground floor and maximum daylight into the interior.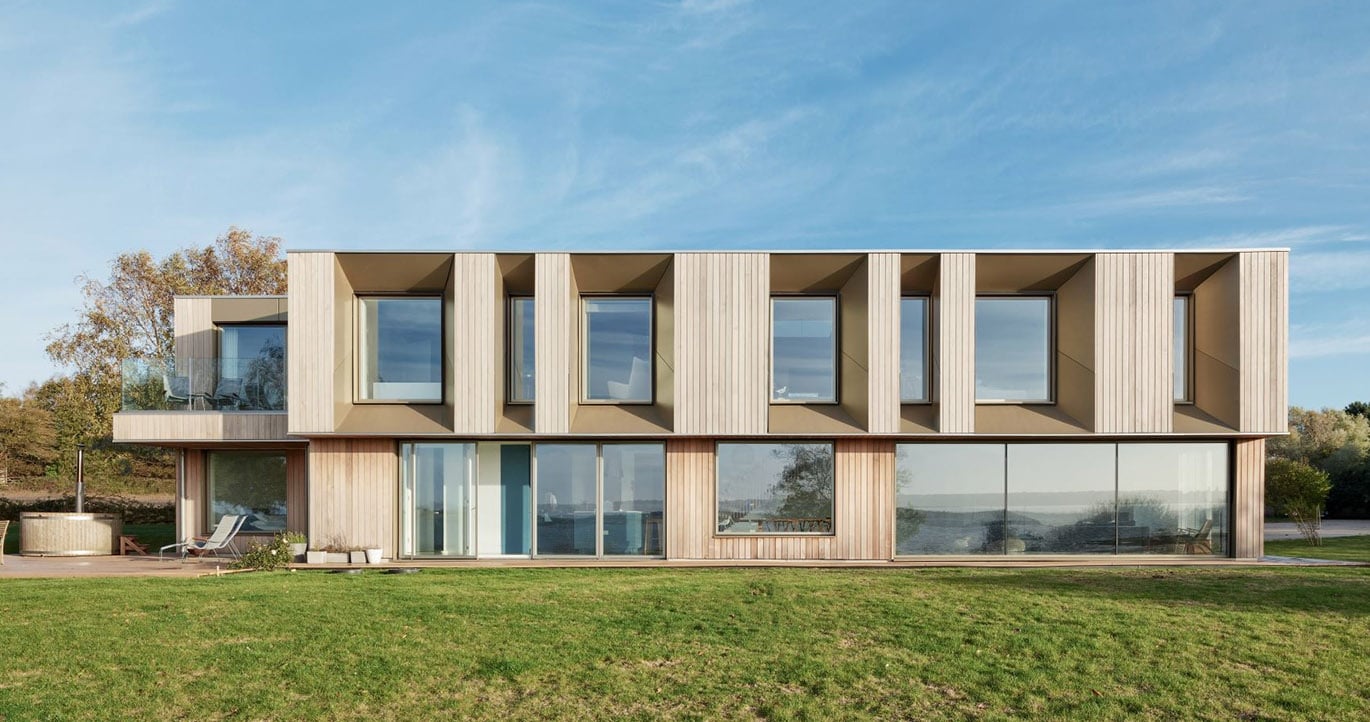 VELFAC triple glazed windows
A Scandinavian aesthetic inspires an interior design of white walls and grey cement floors, with cedar-clad ceilings and balustrades add warmth and texture to living spaces. Internal timber VELFAC frames are painted white and then 'plastered in', creating the illusion of frameless windows which simply capture the view beyond. The triple glazing also plays an important role in the sustainability of Stour House by helping maintain a consistently even temperature in every room, even across the open plan ground floor.
Facit Homes creates contemporary, low carbon properties using digital manufacturing techniques. Every home is individually designed, and underpinned by highly engineered systems and 'core components', including VELFAC composite triple glazing - installed in almost every property Facit Homes has built. VELFAC aluminium/timber triple glazing delivers exceptional energy performance, with U-values of only 0.8W/m2K, in a frame which supports a Scandinavian-inspired aesthetic of clean lines and natural materials. VELFAC can also supply the extra large triple glazed units which bring even more natural light into every Facit Home.
Why does Facit Homes use VELFAC composite glazing? Find out more here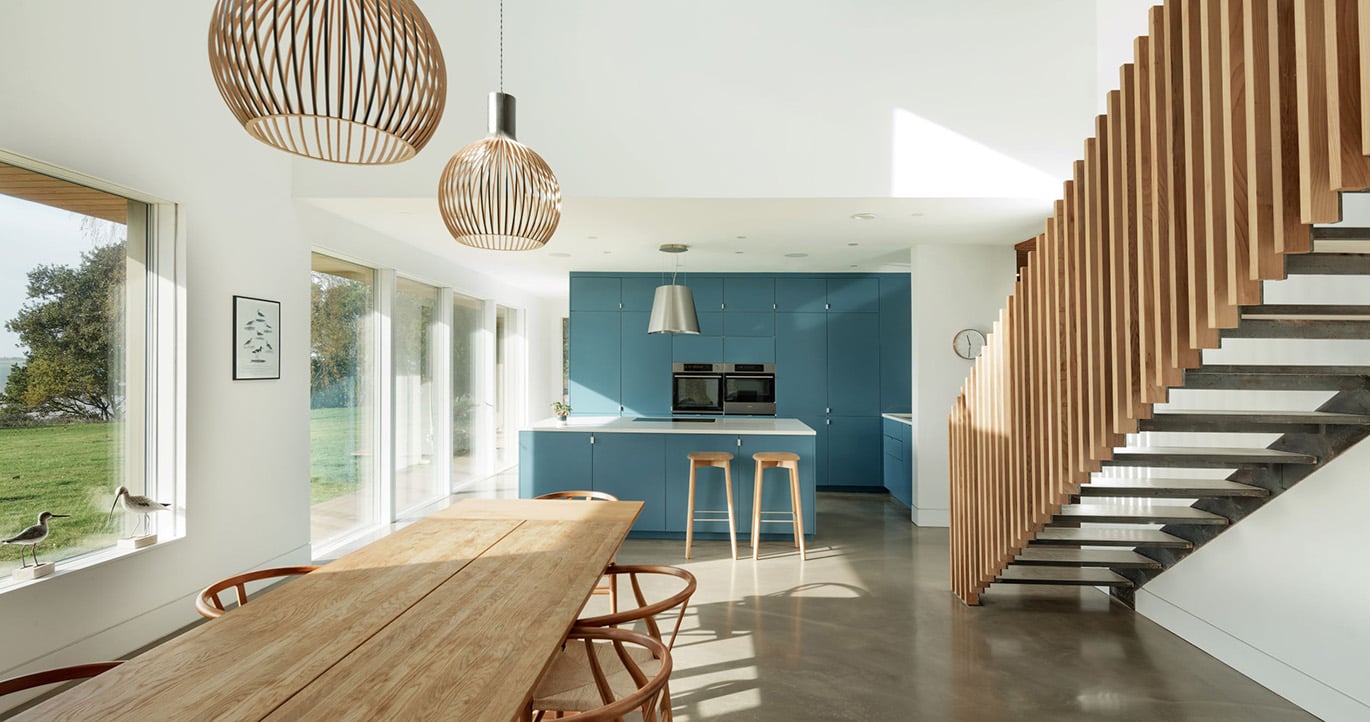 Considering VELFAC?
If you have any questions you are more than welcome to contact us. We are ready to help.